Welcome to FireStarters!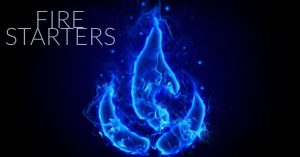 Two Rivers Youth Group is a diverse group of God-hungry young men and women who want to see God's kingdom expanded! When we asked our youth what they wanted to be known as, they unanimously said, "Fire Starters." We believe that is what we are called to do as a youth group: to start a fire in the hearts of people for Jesus. Instead of being just another social club, the culture of Fire Starters is focused on Jesus and the manifest presence of God. It is a place where teens can experience Jesus together in a tangible way, minister to each other, encourage each other in Christ, and reach out to the world together. We regularly experience miracles and God moves powerfully among us. Contrary to the stereotype that teens are selfish adolescents on an emotional roller coaster, teens can be truly spiritual people. They can be intensely holy and powerful in the kingdom. Come join us!
Purpose: Our student ministry exists to draw teens together while guiding them in how to share their faith, adore Jesus, and discover their ministry in an exciting way!
Why: Connecting to other believers is an awesome way to find friends, be yourself, and learn more about Jesus. Being a part of the student ministry will grow you as a Christian, as well as encourage you through others who go through what you go through every day.
Who: All teens in junior high and high school are welcome to be a part of the student ministry.
What we do: Wednesday nights at 6:45pm are reserved for all teens to come and be real before God in a time of praise, prophetic ministry, and teaching. Oftentimes we will discuss the realities and difficulties of being a teen, as well as the ways to receive all that God has for you. We have been seeing miracles! Come, it is always fun to talk to, and hear from God.
Meeting times:
Wednesdays at 7pm in the River
We try to plan at least one Youth Retreat each summer and again in the spring. Watch the bulletin for sign-up information.
If you have any questions about the youth group, you can contact our Youth Pastor Jim at jwebber@2riverschurch.org.